Farming, Then and Now...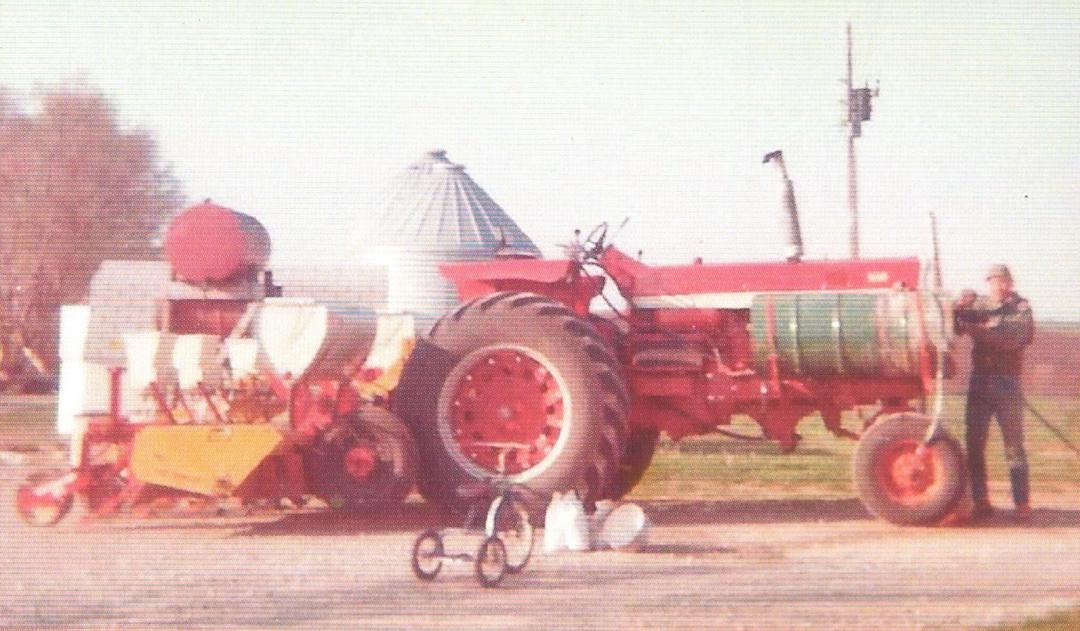 This photo at the top of the screen is actually a photo of my Dad with a Sidewinder planter.  I must have been supervising because you can see my tricycle in the photo.  Dad was one of the first people around our area to kind of go to a type of minimum tillage practice.  We were growing continuous corn and the Sidewinder did a minimal amount of tillage.  Planter units, insecticide boxes, and dry fertilizer boxes were mounted on the Sidewinder.  Saddle tanks were mounted on the tractor for the herbicide.  Everything was done in one pass!
One of my earliest memories of spraying is of my Dad mixing up the Atrazine in a five-gallon bucket and he would stir it up with his bare arm and hand.  The Atrazine was a wettable powder and you had to put it into a slurry before you put it into the sprayer.  The old sprayers did not have enough agitation and the powder did not soak up water well.  It was just difficult.  That memory of him mixing with a bare arm . . . no gloves . . . this is just not something we do today. Fortunately, my Dad is healthy today.  Not everyone is so fortunate after this type of exposure.
We would not think of mixing like this now!  We avoid being exposed to chemicals in that way.  This is one of the reasons why we do what we do - we design and engineer mixing systems to help others avoid exposure to the chemicals.  We want to help make the job of blending chemicals easy and efficient.  It is one of the motivations behind what we do - we want to do anything we can to help make these mixing operations easier and faster and safer.
Last summer we visited one of our aerial applicator customers.  As we walked in the door, one of the first things they commented on was their arms and faces did not have burns from the insecticide.  Before they purchased a Mixmate system, the guys helping with the mixing and loading for the airplanes had mixed insecticide in an open inductor and had always gotten burned from the exposure to the vapors.  Because of the closed system design of the Mixmate bulk system, their exposure was far less and they were really happy they did not have to suffer from that exposure.
So this is a little of our background . . . where we are coming from.  I think of my Dad as an innovator and I believe that is where we got it - being an innovator - it came from my Dad and now our sons are innovators, too.
Commodity Classic 2020 is coming up next week in San Antonio.  Praxidyn will be in Booth #947 between Claas and Kinze and we look forward to saying hello to you.  Live demonstrations of our Mixmate Fusion system will help you see how we are able to automatically mix chemicals AND automatically record each load.  Automated mixing with automated recordkeeping saves you valuable time!  You will observe the ease and efficiency of mixing and how this helps create a safer environment.